Since 1893, the International Order of Freemasonry for Men and Women, LE DROIT HUMAIN has initiated men and women on all continents in full equality.
Today there are 30,000 Sisters and Brothers in more than 60 countries who share the same ideal: to make the world more beautiful and more fraternal.
1893 - 2023 AN ANNIVERSARY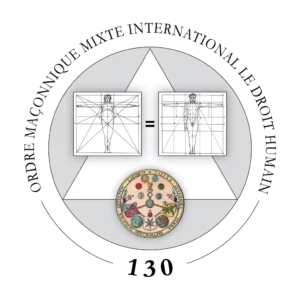 The year 2023 marks the 130th anniversary of the founding of our Order. To celebrate this anniversary is to pay tribute to our founders, to look back on our history, but above all to look forward to what we have to do today.
LE DROIT HUMAIN invites its members to carry out a spiritual quest outside of dogma, a quest carried out by questioning each person within a framework of Otherness, of listening to and working with the Other. The affirmation of the "equality of men and women" characterises our Order, and it should be noted that in the statement of our principles "we wish that all human beings may benefit from the maximum moral, intellectual and spiritual development". This wish naturally applies to every place on our planet; our internationality is appropriate to issue it to all human beings.
FREEDOM, EQUALITY, FRATERNITY
The motto of HUMAN RIGHTS is a ternary of values shared by the members of the Order. Violations of freedom in many different forms are on the increase. Many human beings on all continents are victims. The war in Ukraine is, unfortunately, only the latest manifestation of this. It is essential to respect the dignity of every human being, and to understand that we are all different, because we are marked by our culture and our history, but driven by the conviction that the equality of all human beings is a fundamental value. We must not misunderstand this concept, which everyone must question. It is fraternity that offers the necessary conditions for the realisation of the HUMAN RIGHT, a title of which we should be proud.
THE CHALLENGES OF THE PRESENT TIME
The challenges of the present time are international in nature and have no regard for borders, whether they be climate change, resource scarcity, the imperatives of global demography or the interaction of living species.
Challenges are opportunities for human beings to use their creative abilities. Let's give them a chance to express themselves. This has always been true even in the darkest times of humanity.
The International Order of Freemasonry for men and women LE DROIT HUMAIN welcomes all human beings in search of meaning. This site is an open door to your approach.
2023
To conclude these brief remarks, it is my duty as the spokesperson of the members of our Order to express to you our best wishes for the New Year. May it be for you and your loved ones a year of light bringing health, joy and happiness.
Grand Master of the Order, René Motro